Yes Bank is an Indian public sector bank headquartered in Mumbai, India and was founded by Rana Kapoor and Ashok Kapoor in 2004. It offers wide range of differentiated products for corporate and retail customers through retail banking and asset management services.
What's The Reason Behind The Share Price Surge?
Yes Bank shares have surged from ₹12.80 to ₹15.90 in last one week, delivering more than 22 per cent return to its shareholders in this period.
The major reasons were:-
PE group Carlyle considering acquiring 10 per cent stake in Yes Bank
Kotak Mahindra Bank board's approval to pump ₹500 crore in Yes Bank
Recent rating upgrade by CARE rating agency to its debt instruments from BBB to BBB+
Well the Yes Bank Share has given a fresh breakout at Rs. 15, and technically on chart it seems bullish. Well For long term Investors it seems that, Yes Bank move towards Rs. 24.4 (having resistance @ Rs. 17)
Following are the charts of Yes Bank, One can have a look on it !!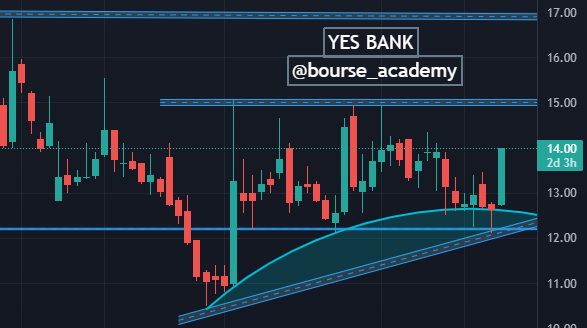 Anand Pandey (Bourse Academy)